Function Repository Resource:
 PersistentCloudForm
Create forms with persistent values for cloud deployment
Contributed by:
Jon McLoone
ResourceFunction["PersistentCloudForm"][form,store]

modifies form so that it has persistent user-specific values, storing values in CloudExpression[store].
Details and Options
The output should not be deployed with
Permissions

→

"Public"
for long-term persistence or if sensitive information is being stored. Unauthenticated users will be tracked using a combination of IP address and browser details, giving a risk that another user could share the same values, and also resulting in loss of data if these details change.
Examples
Basic Examples 
(4)
Deploy a simple GDPR (General Data Protection Regulation) permissions form:
| | |
| --- | --- |
| In[1]:= | |
| | |
| --- | --- |
| Out[1]= | |
When a user returns to the form, its state will reflect the last values that they submitted. These values can then be changed: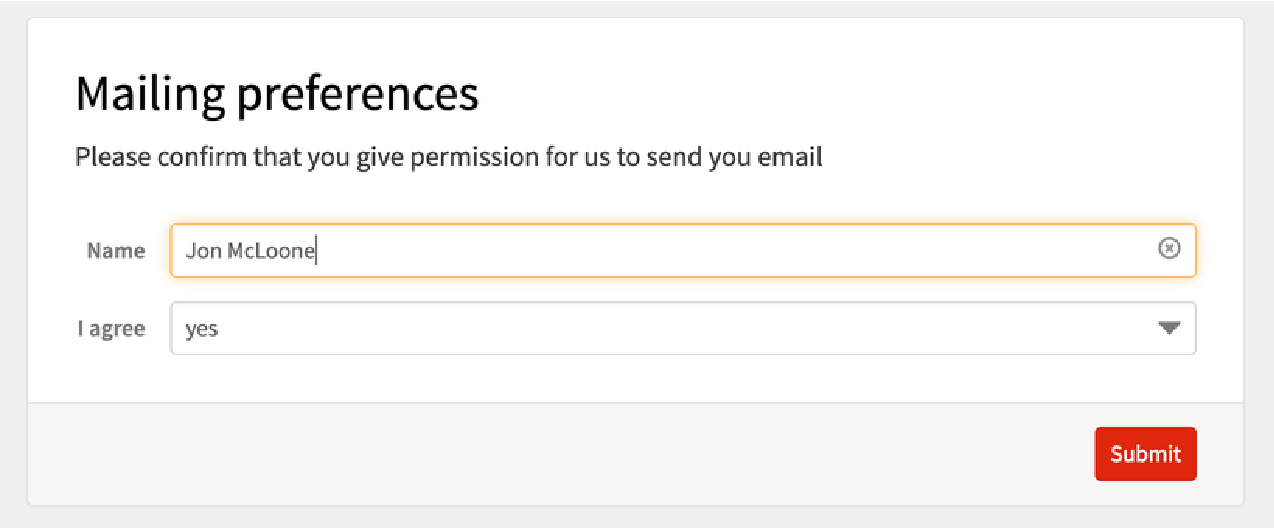 A CloudExpression is created to store the data:
| | |
| --- | --- |
| In[2]:= | |
| | |
| --- | --- |
| Out[2]= | |
You can look up whether user "mcloone@wolfram.com" is currently giving their permission to be sent email:
| | |
| --- | --- |
| In[3]:= | |
| | |
| --- | --- |
| Out[3]= | |
Scope 
(1)
Both FormPage and FormFunction are supported. Create a simple persistent GDPR permissions form that redirects the user on completion:
| | |
| --- | --- |
| In[4]:= | |
| | |
| --- | --- |
| Out[4]= | |
Properties and Relations 
(1)
The data is stored in a CloudExpression. Changes to the values in the CloudExpression will be seen by the user when they visit form. For example, you can pre-populate the form for a user who has not used it yet:
| | |
| --- | --- |
| In[5]:= | |
Publisher
Version History
Related Resources
Related Symbols
License Information