Function Repository Resource:
 BinetFibonacci
Generalize the Fibonacci numbers for complex inputs using Binet's Fibonacci formula
Contributed by:
Richard Hennigan (Wolfram Research)
ResourceFunction["BinetFibonacci"][n]

gives the Fibonacci number Fn using Binet's Fibonacci formula.
Details and Options
Mathematical function, suitable for both symbolic and numerical manipulation.
For any complex value of
n
, the
F
n
are given by the general formula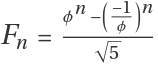 , where
ϕ
is the golden ratio.
ResourceFunction
[
"BinetFibonacci"
]
automatically threads over lists.
Examples
Related Links
Version History
Related Resources
Related Symbols
License Information