Continuous integration and deployment for Wolfram Language paclets
Contributed by: Richard Hennigan
PacletCICD is a collection of utilities to help set up automated workflows for continuous integration and continuous deployment of Wolfram Language paclets. This paclet contains the underlying code that powers the check-paclet and build-paclet actions on the GitHub Marketplace.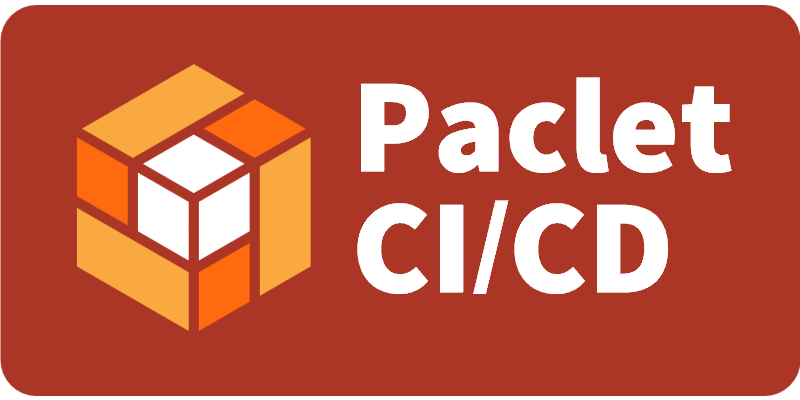 Installation Instructions
To install this paclet in your Wolfram Language environment, evaluate this code:
PacletInstall["Wolfram/PacletCICD"]
To load the code after installation, evaluate this code:
Needs["Wolfram`PacletCICD`"]
Examples
GitHub Actions 
(4)
PacletCICD functions can be used indirectly via the build-paclet and check-paclet GitHub Marketplace actions.
These actions can also be automatically configured for your paclet by using WorkflowExport:

Paclet Checking 
(2)
Automatically check paclets for potential issues in a GitHub CI/CD workflow:
| | |
| --- | --- |
| In[1]:= | |
| | |
| --- | --- |
| Out[1]= | |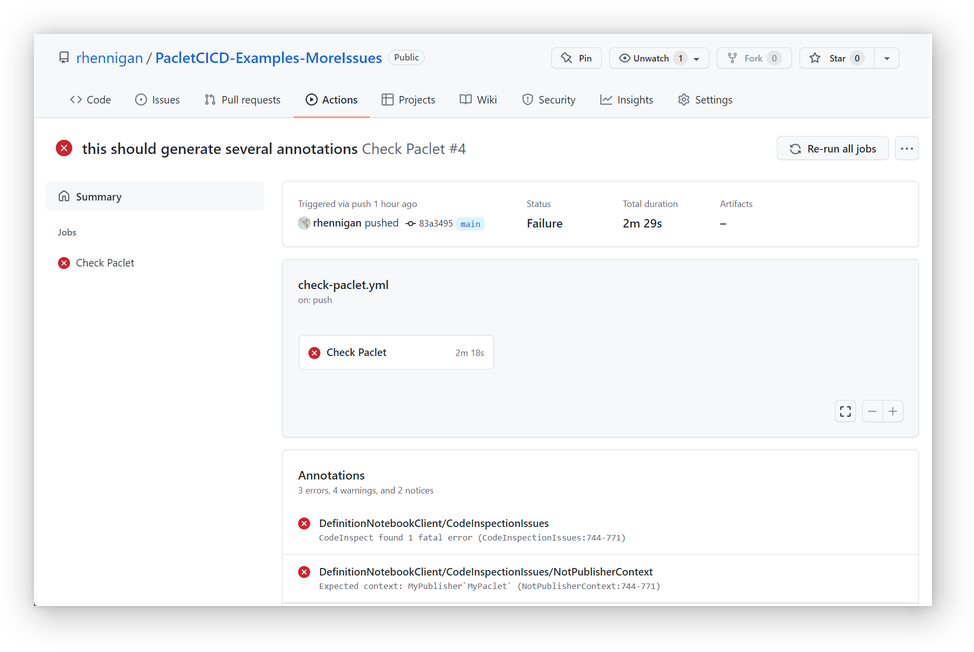 Generate code annotations automatically for viewing changes: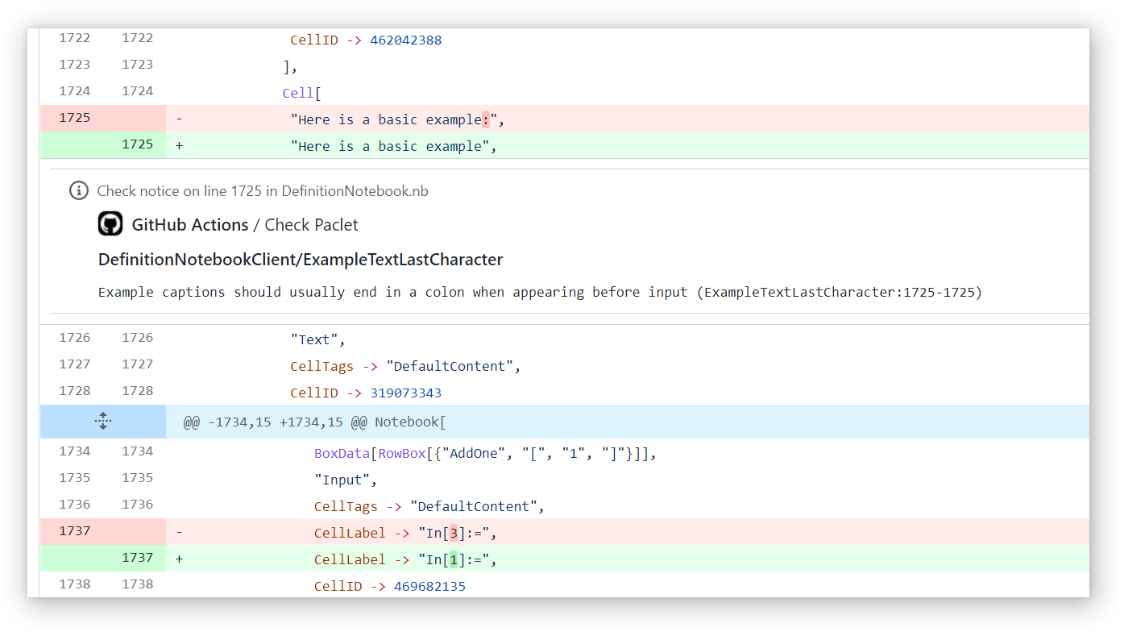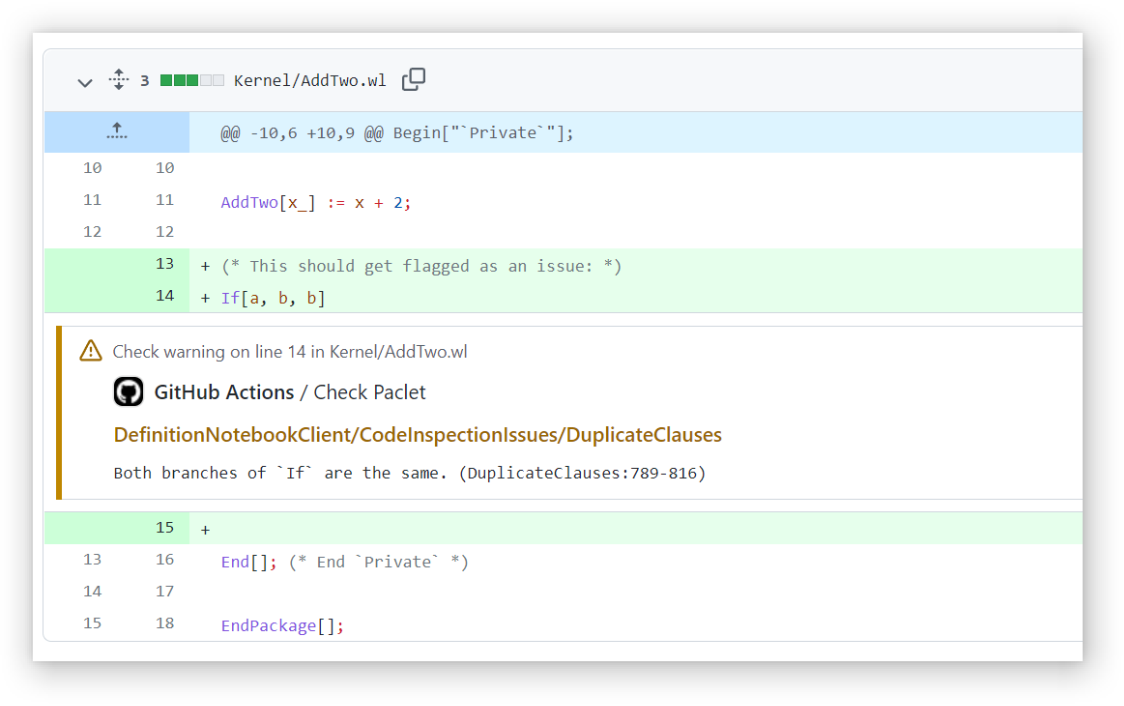 Automatic Releases 
(2)
Create a release workflow in the form of a GitHub Actions YAML file for a paclet:
| | |
| --- | --- |
| In[2]:= | |
| | |
| --- | --- |
| Out[2]= | |
| | |
| --- | --- |
| In[3]:= | |

Push changes to a branch beginning with "release/" and a tagged release will be automatically created (provided that automated checks pass):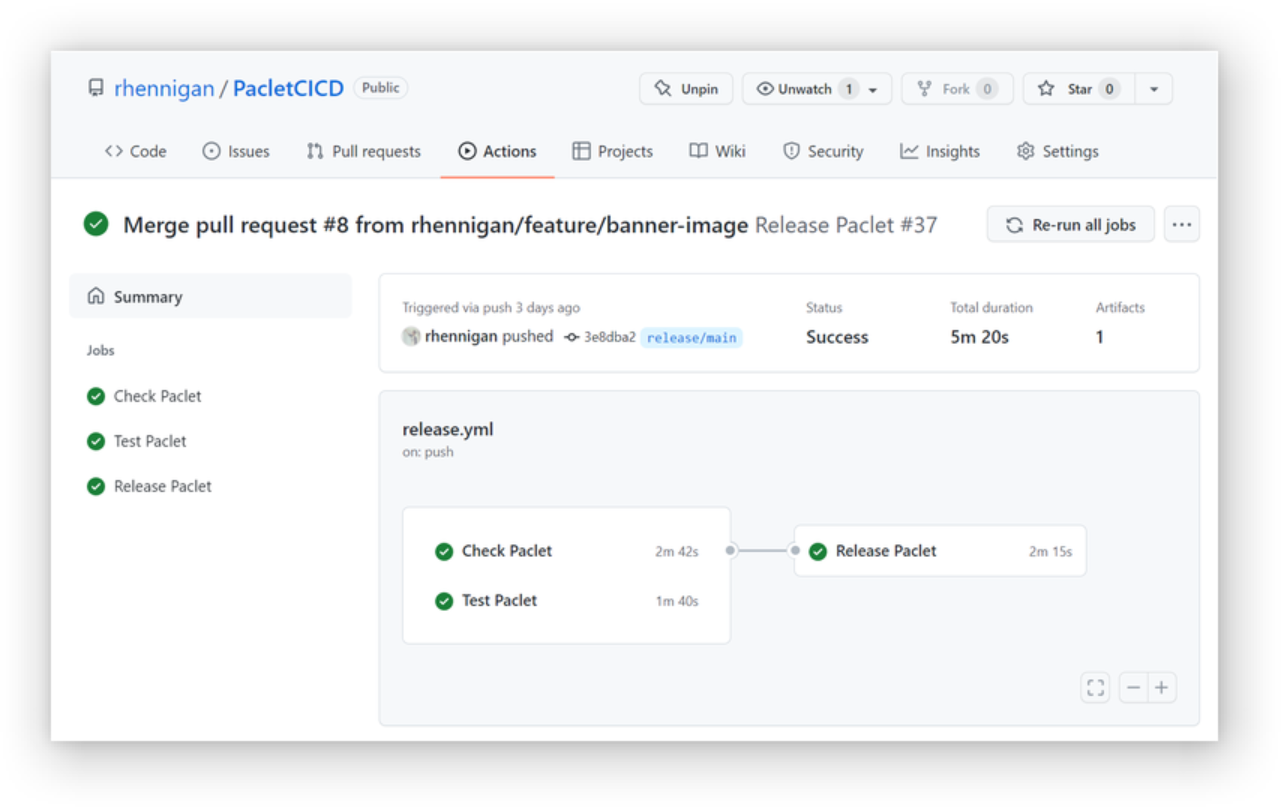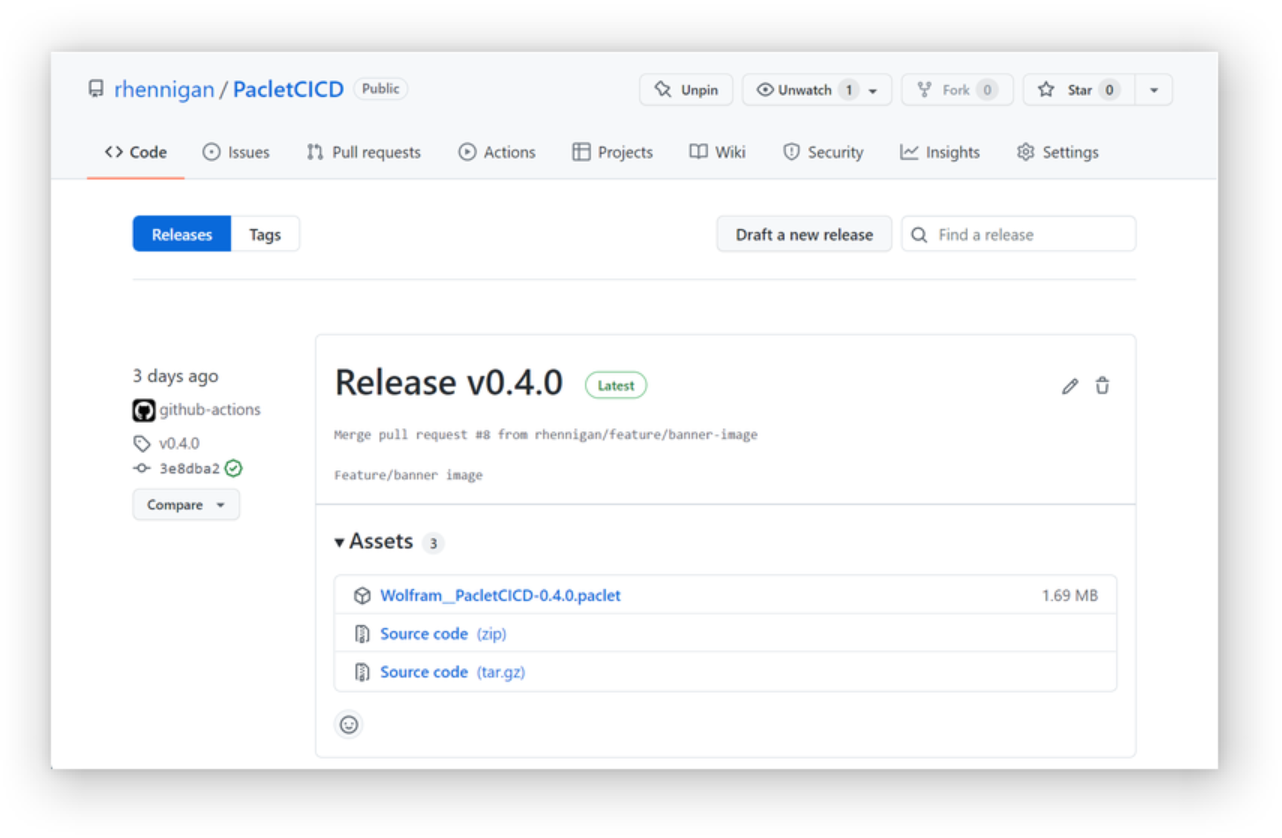 Installing PacletCICD 
(4)
From the Wolfram Language Paclet Repository:
| | |
| --- | --- |
| In[4]:= | |
| | |
| --- | --- |
| Out[4]= | |
Using GitHubInstall:
| | |
| --- | --- |
| In[5]:= | |
| | |
| --- | --- |
| Out[5]= | |
Alternatively, manually install a paclet file from the PacletCICD releases page:
| | |
| --- | --- |
| In[6]:= | |
| | |
| --- | --- |
| Out[6]= | |
To uninstall:
| | |
| --- | --- |
| In[7]:= | |
Disclosures
Local files
Wolfram account
External services
WL system configuration
Paclet dependencies
Compatibility
Wolfram Language Version 13.0
External Links
Version History
0.36.0

– 19 October 2023

0.35.0

– 28 August 2023

0.34.0

– 11 November 2022

0.33.3

– 17 October 2022

0.33.2

– 16 October 2022

0.33.1

– 14 October 2022

0.33.0

– 12 October 2022

0.32.0

– 22 September 2022

0.31.0

– 08 August 2022

0.30.1

– 08 August 2022

0.29.2

– 20 July 2022

0.29.1

– 14 June 2022

0.29.0

– 22 May 2022

0.28.0

– 20 May 2022

0.27.0

– 19 May 2022

0.26.2

– 19 May 2022

0.26.0

– 22 April 2022

0.25.0

– 21 April 2022

0.20.7

– 04 April 2022

0.20.6

– 04 April 2022

0.20.5

– 04 April 2022

0.20.4

– 04 April 2022

0.20.3

– 04 April 2022

0.20.1

– 04 April 2022

0.16.1

– 29 March 2022

0.16.0

– 29 March 2022

0.10.5

– 24 February 2022

0.10.3

– 24 February 2022

0.10.1

– 22 February 2022

0.5.0

– 15 February 2022
License Information
Paclet Source
Source Metadata
Source:

https://github.com/WolframResearch/PacletCICD
See Also