Wolfram/

ChatGPTPluginKit
Build plugins for ChatGPT in just a few lines
Contributed by: Christopher Wolfram
Installation Instructions
To install this paclet in your Wolfram Language environment, evaluate this code:
PacletInstall["Wolfram/ChatGPTPluginKit"]
To load the code after installation, evaluate this code:
Needs["Wolfram`ChatGPTPluginKit`"]
Details
The ChatGPT plugin mechanism works by making HTTP(S) requests to a specified web server. The web server hosts manifest files including prompt information as well as information about availible APIs. This is given to ChatGPT which can then request to call those APIs.
ChatGPTPluginKit works by deploying a web server to localhost providing all the specified manifests and APIs.
API calls to plugins deployed from ChatGPTPluginKit run in the same kernel from which the plugin was deployed.
Examples
Basic Examples 
(2)
Deploy a simple plugin to a local web server:
| | |
| --- | --- |
| In[1]:= | |
| | |
| --- | --- |
| Out[1]= | |
Use in ChatGPT: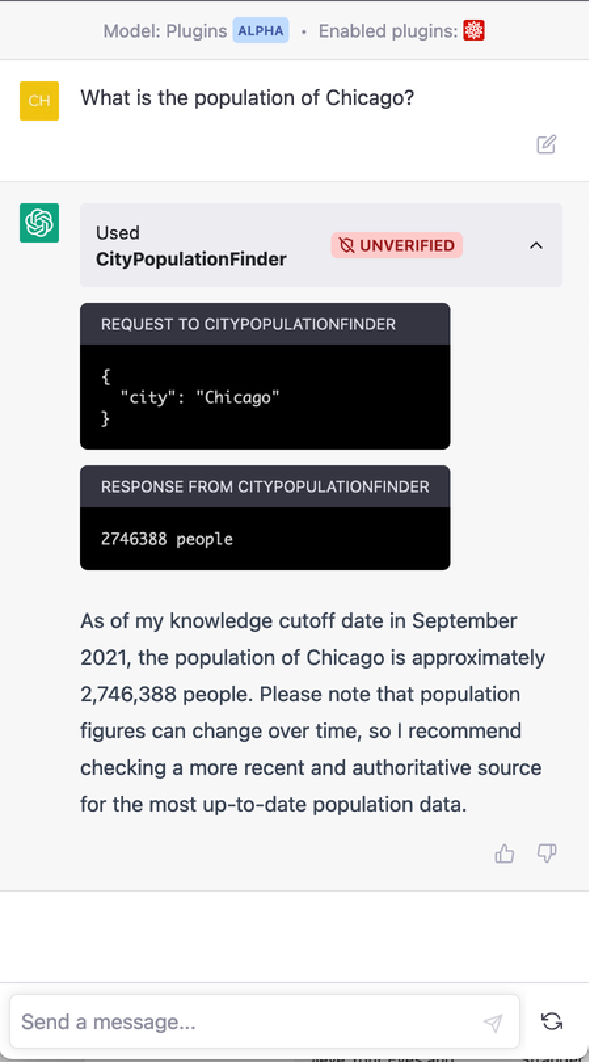 Stop the web server:
| | |
| --- | --- |
| In[2]:= | |
---
Deploy a plugin to the public Wolfram Cloud:
| | |
| --- | --- |
| In[3]:= | |
| | |
| --- | --- |
| Out[3]= | |
Scope 
(4)
Implement a TODO list plugin:
| | |
| --- | --- |
| In[4]:= | |
| | |
| --- | --- |
| Out[5]= | |
Install and use the plugin: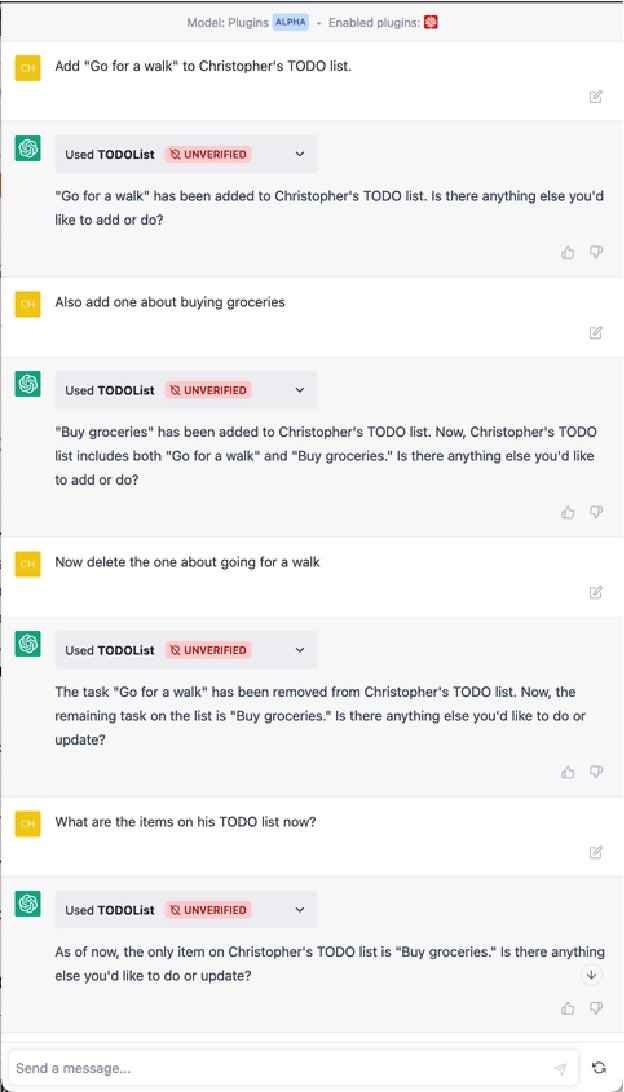 View the final state of the TODO list:
| | |
| --- | --- |
| In[6]:= | |
| | |
| --- | --- |
| Out[6]= | |
Stop the web server:
| | |
| --- | --- |
| In[7]:= | |
Disclosures
Local files
Local system interactions
Compatibility
Wolfram Language Version 13.1
External Links
Version History
License Information
Paclet Source
Source Metadata
Source:

https://github.com/chriswolfram/ChatGPTPluginKit