GPT Transformer
Trained on
BookCorpus Data
Generate text in English and represent text as a sequence of vectors
Released in 2018, this Generative Pre-Training Transformer (GPT) model is pre-trained in an unsupervised fashion on a large corpus of English text. This model can be further fine-tuned with additional output layers to create highly accurate NLP models for a wide range of tasks. It uses bi-directional causal self-attention, often referred to as a transformer decoder.
Number of models: 2
Training Set Information
BookCorpus, a dataset consisting of 11,038 unpublished books from 16 different genres.
Performance
The model fine-tuned on various datasets obtains the following accuracy on various natural language inference tasks: 82.1%, 81.4%, 89.9%, 88.3%, 88.1% and 56% accuracy on MNLI-m, MNLI-mm, SNLI, SciTail, QNLI, and RTE datasets respectively.

For question answering and commonsense reasoning, the fine-tuned model obtains the following accuracies: 86.5%, 62.9%, 57.4%, and 59.0% accuracy on Story Cloze, RACE-m, RACE-h, and RACE datasets respectively
Examples
Resource retrieval
Get the pre-trained net:
| | |
| --- | --- |
| In[1]:= | |
| | |
| --- | --- |
| Out[1]= | |
NetModel parameters
This model consists of a family of individual nets, each identified by a specific parameter combination. Inspect the available parameters:
| | |
| --- | --- |
| In[2]:= | |
| | |
| --- | --- |
| Out[2]= | |
Pick a non-default net by specifying the parameters:
| | |
| --- | --- |
| In[3]:= | |
| | |
| --- | --- |
| Out[3]= | |
Pick a non-default uninitialized net:
| | |
| --- | --- |
| In[4]:= | |
| | |
| --- | --- |
| Out[4]= | |
Basic usage
Given a piece of text, the GPT net produces a sequence of feature vectors of size 768, which correspond to the sequence of input words or subwords:
| | |
| --- | --- |
| In[5]:= | |
| | |
| --- | --- |
| Out[5]= | |
Obtain dimensions of the embeddings:
| | |
| --- | --- |
| In[6]:= | |
| | |
| --- | --- |
| Out[6]= | |
Visualize the embeddings:
| | |
| --- | --- |
| In[7]:= | |
| | |
| --- | --- |
| Out[7]= | |
Transformer architecture
The input string is first normalized and then tokenized, or split into words or subwords. This two-step process is accomplished using the NetEncoder "Function":
| | |
| --- | --- |
| In[8]:= | |
| | |
| --- | --- |
| Out[9]= | |
The tokenization step is performed using the NetEncoder "BPESubwordTokens" and can be extracted using the following steps:
| | |
| --- | --- |
| In[10]:= | |
The encoder produces an integer index for each subword token that corresponds to the position in the vocabulary:
| | |
| --- | --- |
| In[11]:= | |
| | |
| --- | --- |
| Out[11]= | |
Each subword token is also assigned a positional index:
| | |
| --- | --- |
| In[12]:= | |
| | |
| --- | --- |
| Out[12]= | |
A lookup is done to map these indices to numeric vectors of size 768:
| | |
| --- | --- |
| In[13]:= | |
| | |
| --- | --- |
| Out[14]= | |
For each subword token, these two embeddings are combined by summing elements with ThreadingLayer:
| | |
| --- | --- |
| In[15]:= | |
| | |
| --- | --- |
| Out[15]= | |
The transformer architecture then processes the vectors using 12 structurally identical self-attention blocks stacked in a chain:
| | |
| --- | --- |
| In[16]:= | |
| | |
| --- | --- |
| Out[16]= | |
The key part of these blocks is the attention module consisting of 12 parallel self-attention transformations, also called "attention heads":
| | |
| --- | --- |
| In[17]:= | |
| | |
| --- | --- |
| Out[17]= | |
Each head uses an AttentionLayer at its core:
| | |
| --- | --- |
| In[18]:= | |
| | |
| --- | --- |
| Out[18]= | |
Attention is done with causal masking, which means that the embedding of a given subword token depends on the previous subword tokens and not on the subsequent ones. This is a prerequisite to be able to generate text with the language model. The following figures compare causal attention to other forms of connectivity between input tokens: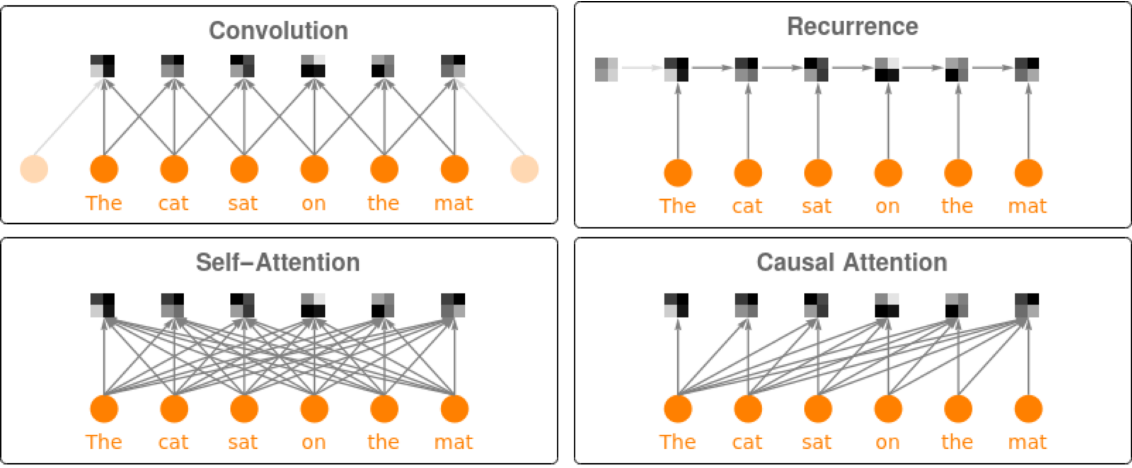 Language modeling: Basic usage
Retrieve the language model by specifying the "Task" parameter:
| | |
| --- | --- |
| In[19]:= | |
| | |
| --- | --- |
| Out[19]= | |
Predict the next word in a given sequence:
| | |
| --- | --- |
| In[20]:= | |
| | |
| --- | --- |
| Out[20]= | |
Obtain the top 15 probabilities:
| | |
| --- | --- |
| In[21]:= | |
| | |
| --- | --- |
| Out[21]= | |
Plot the top 15 probabilities:
| | |
| --- | --- |
| In[22]:= | |
| | |
| --- | --- |
| Out[22]= | |
Text generation
Modify the language model so that it accepts the encoded token indices as input and creates the token indices as output:
| | |
| --- | --- |
| In[23]:= | |
Create a new decoder that performs a lookup to find the corresponding string, followed by some text cleaning:
| | |
| --- | --- |
| In[24]:= | |
Define a function to predict the next token using the modified language model:
| | |
| --- | --- |
| In[25]:= | |
Get an input:
| | |
| --- | --- |
| In[26]:= | |
| | |
| --- | --- |
| Out[26]= | |
Generate the next 20 tokens by using it on the input:
| | |
| --- | --- |
| In[27]:= | |
| | |
| --- | --- |
| Out[27]= | |
The third optional argument is a "temperature" parameter that scales the input to the final softmax. A high temperature flattens the distribution from which tokens are sampled, increasing the probability of extracting less likely tokens:
| | |
| --- | --- |
| In[28]:= | |
| | |
| --- | --- |
| Out[28]= | |
Decreasing the temperature sharpens the peaks of the sampling distribution, further decreasing the probability of extracting less likely tokens:
| | |
| --- | --- |
| In[29]:= | |
| | |
| --- | --- |
| Out[29]= | |
Very high temperature settings are equivalent to random sampling:
| | |
| --- | --- |
| In[30]:= | |
| | |
| --- | --- |
| Out[30]= | |
Very low temperature settings are equivalent to always picking the character with maximum probability. It is typical for sampling to "get stuck in a loop":
| | |
| --- | --- |
| In[31]:= | |
| | |
| --- | --- |
| Out[31]= | |
Sentence analogies
Define a sentence embedding that consists of the last subword embedding of GPT (this choice is justified by the fact that GPT is a forward causal model):
| | |
| --- | --- |
| In[32]:= | |
| | |
| --- | --- |
| Out[32]= | |
Define some sentences in two broad categories for comparison:
| | |
| --- | --- |
| In[33]:= | |
Precompute the embeddings for a list of sentences:
| | |
| --- | --- |
| In[34]:= | |
Visualize the similarity between the sentences using the net as a feature extractor:
| | |
| --- | --- |
| In[35]:= | |
| | |
| --- | --- |
| Out[35]= | |
Train a classifier with the subword embeddings
Get a text-processing dataset:
| | |
| --- | --- |
| In[36]:= | |
View a random sample of the dataset:
| | |
| --- | --- |
| In[37]:= | |
| | |
| --- | --- |
| Out[37]= | |
Define a sentence embedding that consists of the last subword embedding of GPT (this choice is justified by the fact that GPT is a forward causal model):
| | |
| --- | --- |
| In[38]:= | |
| | |
| --- | --- |
| Out[38]= | |
Precompute the GPT vectors for the training and the validation datasets (if available, GPU is highly recommended):
| | |
| --- | --- |
| In[39]:= | |
Define a simple network for classification:
| | |
| --- | --- |
| In[40]:= | |
| | |
| --- | --- |
| Out[41]= | |
Train the network on the precomputed GPT vectors:
| | |
| --- | --- |
| In[42]:= | |
| | |
| --- | --- |
| Out[42]= | |
Check the classification error rate on the validation data:
| | |
| --- | --- |
| In[43]:= | |
| | |
| --- | --- |
| Out[43]= | |
Compare the results with the performance of a classifier trained on context-independent word embeddings. Precompute the GloVe vectors for the training and the validation datasets (if available, GPU is recommended):
| | |
| --- | --- |
| In[44]:= | |
| | |
| --- | --- |
| In[45]:= | |
Define a simple network for classification, using a max-pooling strategy:
| | |
| --- | --- |
| In[46]:= | |
| | |
| --- | --- |
| Out[46]= | |
Train the classifier on the precomputed GloVe vectors:
| | |
| --- | --- |
| In[47]:= | |
| | |
| --- | --- |
| Out[47]= | |
Compare the results obtained with GPT and with GloVe:
| | |
| --- | --- |
| In[48]:= | |
| | |
| --- | --- |
| Out[48]= | |
Net information
Inspect the number of parameters of all arrays in the net:
| | |
| --- | --- |
| In[49]:= | |
| | |
| --- | --- |
| Out[49]= | |
Obtain the total number of parameters:
| | |
| --- | --- |
| In[50]:= | |
| | |
| --- | --- |
| Out[50]= | |
Obtain the layer type counts:
| | |
| --- | --- |
| In[51]:= | |
| | |
| --- | --- |
| Out[51]= | |
Display the summary graphic:
| | |
| --- | --- |
| In[52]:= | |
| | |
| --- | --- |
| Out[52]= | |
Requirements
Wolfram Language 12.0 (April 2019) or above
External Links
Resource History
Date Created:

8 April 2019

Latest Update:

12 April 2019
Reference